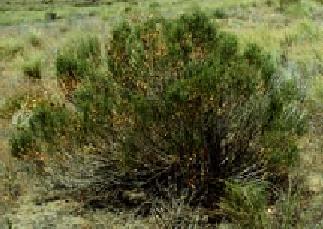 Rabbit Brush
Chrysothamnus viscidiflorus (Hook.) Nutt
Green rabbit brush. Collected along the Clearwater River from near the mouth of the Potlatch River to just downstream from Pine Creek in Nez Perce Co., Idaho, on 6 May 1806. (Source)
Spreading shrub 2-4+ tall with woody stems, greenish-yellow branches and leaves. The leaves are slender and sharp pointed and there are tiny individual flowers massed in large rounded clusters. The leaves and stems are pleasantly aromatic when crushed. Green Rabbit Brush has many brittle stems branching from a compact base. The species has a large geographic range and a wide ecological amplitude. Several subspecies and varieties with somewhat different distributions have been identified. Colorful and showy in late summer. Green Rabbit Brush flowering usually begins in September. Fruit ripens in October and is disseminated in the remaining fall months. A stratification period does not appear to be necessary but may speed germination. Seeds generally begin sprouting in March and continue sprouting into June. Found in a variety of substrates from the lowlands to mountains, often with sagebrush. Reported by Nuttall "in the Rocky Mts the banks of the Lewis' River."
Food Uses:
The milky sap contains rubbery compounds and the bark of the lower stem was used as chewing gum.
Medicinal Uses: A poultice made from the chewed plant tips has been applied to boils and rheumatic joints. An infusion of the leaves has been used to treat coughs, fevers, colds, internal injuries, and constipation. The finely mashed leaves have been inserted in tooth cavities to treat toothache.
Value to Animals:
Green rabbitbrush provides an important source of browse for wildlife, particularly in the late fall and early winter after more palatable species have been depleted. Wild ungulates show varying preference for green rabbitbrush depending on season, locality, and subspecies. Mature or partially mature plants are generally preferred to green, immature ones.

In southeastern Idaho, green rabbitbrush plants may be almost completely consumed by black-tailed jackrabbits during the winter and early spring. In south-central Idaho, mountain cottontail also feed on green rabbitbrush.

White-tailed deer in Montana feed on green rabbitbrush during the winter and early spring. Green rabbitbrush furnishes some food for pronghorns in Utah and Oregon.
(Source)