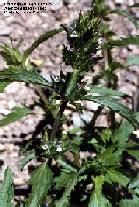 American Dragonhead
Dracocephalum parviflorum Nutt.
American Dragonhead is a native annual, biennial, or short-lived perennial herb. The plant is very fragrant. Solitary or clustered stems arise from a taproot and are 6 to 32 inches tall. Leaves are coarsely serrate and flowers are crowded in a dense terminal or auxiliary cluster. The fruits are nut lets American dragonhead flowers from June to August in the Intermountain region American dragonhead commonly grows on open, moist sites and in disturbed areas.. It occurs from 4,850 to 10,890 feet elevation in the Intermountain area.
Food Uses
The leaves have been used as a flavoring.
Medicinal Uses
The plant has been used to treat diarrhea in children.. The leaves are febrifuge and ophthalmic.. A cold compound infusion has been used in the treatment of fevers and headaches.. Externally, it has been used as an eyewash.
Planting
Succeeds in a sunny position in a fertile well-drained soil. It is useful for filling gaps in the summer border. Seed should be sown in early spring. Pinch back the shoot tips in May in order to encourage bushy growth.