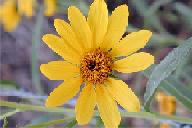 Nuttall's Sunflower
Helianthus nuttallii T & G.
Perennial herb with thickened roots and short rhizomes. The stems are upright up to 12 feet tall. the leaves are all opposite with the uppermost alternate, simple, and up to 6 inches long, up to 1 1/2 inches wide, and pointed at the top. It has yellow flowers with heads up to 2 1/2 inches wide, each consisting of 12 to 20 yellow rays and a central disk of yellow-tubular flowers.. It flowers from July to November. Nuttall reported this flower on the banks of the Lewis' River. It is found on the Fort Hall Indian Reservation in southeast Idaho.
Food Uses
The tubers when cooked have a taste similar to Jerusalem artichokes, but less substantial. The seed, though small, can be used raw or cooked. It can be dried and ground into a powder, then mixed with cornmeal and used for making bread.
Planting
Seed - sow spring in a cold frame. When they are large enough to handle, prick the seedlings out into individual pots and grow them on in the greenhouse for their first winter. Plant them out into their permanent positions in late spring or early summer, after the last expected frosts. Division in spring or autumn. Very easy, larger clumps can be replanted direct into their permanent positions, though it is best to pot up smaller clumps and grow them on in a cold frame until they are rooting well. Plant them out in the spring. Basal cuttings in spring. Harvest the shoots when they are about 10 - 15cm long with plenty of underground stem. Pot them up into individual pots and keep them in light shade in a cold frame or greenhouse until they are rooting well. Plant them out in the summer. (PFAF)