<

Plants Found on the Fort Hall Indian Reservation
and/or Southeastern Idaho
Originally Identified and Cataloged
by Thomas Nuttall.

Plants by Common and Scientific Family

Alphabetical List of Plants Found by Nuttall

Idaho plants found by Lewis and Clark

References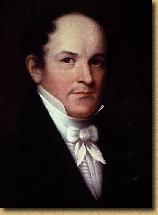 Thomas Nuttall
(1786-1859)


In 1832 and 1833 on his first trip to the Rocky Mountains and Oregon, Nathaniel Wyeth collected several plant specimens which he sent to the well known biologist Thomas Nuttall (1786-1859). Nuttall was one of the foremost botanical explorers of North America. He collected plants on journeys through the Great Lakes basin and along the length of both the Mississippi and Missouri Rivers (1810-1811), into what is now Oklahoma (1818-1820), and across the Rocky Mountains to the Pacific (1834-1836).

Born in England in 1786, Nuttall first arrived in the United States in 1808. During his visits to the New World from 1808 to 1834 Nuttall traveled extensively to identify and catalogue hundreds of unknown plant and animal species along the upper Missouri, the Mississippi, the Ohio, the Great Lakes, the Arkansas Territory, and the Atlantic States. It was reported that no other explorer of the botany of North America personally made more discoveries than Thomas Nuttall. Many of the the plants from the Nuttall collection are now in the British Museum in London, England.

There was a direct connection between Nuttall and Frederick Pursh who cataloged the plants discovered by Lewis and Clark on their expedition. Nuttall shared some of his new plants with Pursh, who was preparing his flora of North American, which included the plants of Lewis and Clark, many of which were found in what is now Idaho. It was noted that there were many species in common and Pursh included the Nuttall plants in his publication.

In 1834 when Nathaniel Wyeth made his second trip to the Rocky Mountains and on to Oregon, he was accompanied by Nuttall. In crossing what is now westernmost Nebraska, Wyoming, and southern Idaho, Nuttall was in a area never before seen by any biologist.

When Wyeth built Fort Hall in July 1834, Nuttall explored the area that is now the Fort Hall Indian Reservation. At Fort Hall Nuttall recorded that he first saw the American Magpie and found the Dusky Willow (Salix melanopsis Nutt.). Studies on the Fort Hall Reservation conducted in the 1990's revealed many plant species that bear Nuttall's name.

A project is currently underway at the Fort Hall Replica to surround the Replica with plants that are indigenous to southeastern Idaho and particularly the native species found in the vicinity of Wyeth's Fort Hall. While a wide range of trees, shrubs, flowers, herbs, and grasses are available for use in the project, special emphasis will be placed on collecting and planting species of plants first identified by Thomas Nuttall, many of which he discovered on his trek with Nathaniel Wyeth in 1834.

Plants by Common and Scientific Family

NOTICE: Many of the plants listed below may be used as food or medicine. Great care should be taken before using any plant without full knowledge and understanding of potential dangers.
COMMON FAMILY NAME

SCIENTIFIC FAMILY

Common Plant Name
(Click on Plant Name for additional information)
Scientific Plant Name and Its Authority
ASTER FAMILY
ASTERACEAE

Senecio hydrophilus Nutt.

Balsamorhiza sagittata (Pursh) Nutt.

Artemisia tridentata Nutt. ssp. tridentata

Rudbeckia occidentalis Nutt. var occidntalis

Arnica chamissonis Less. ssp. foliosa Nutt.

Sphaeromeria argentea Nutt.

Clasping Arnica
Arnica amplexiculis Nutt.

Achillea millefolium var. lanulosa (Nutt.) Piper

Edible Thistle
Cirsium edule Nutt.
Elk Thistle
Cirsium scariosum Nutt,

Chrysothamus nauseosus (Pall.) Britt

var. albicaulis (Nutt.) Rydb.

Chrysothamnus viscidiflorus (Hook.) Nutt

var. lanceolatus (Nutt.) Greene

Balsamorhiza hooken Nutt. var. hispidula (sharp) Cronq.

Large-leafed Balsamroot
Balsamorhiza macrophylla Nutt.
Largeflower Brickellia (Tassleflower)
Brickellia grandiflora Nutt.
Largeflower Hawksbeard
Crepis occidentalis Nutt.

Solidago nana Nutt.

Antennaria dimorpha (Nutt.) T. & G.

Artemisia arbuscula Nutt. var. nova (A. Nels.) Cronq

Gnaphalium palustre Nutt.

Mountain False Dandielion
Agoseris heterophylla Nutt.

Wyethia amplexicaulis Nutt.

Viguiera multiflora (Nutt.). Blake var. multiflora

Helianthus nuttallii T & G.

Prairie Coneflower
Ratibida columnifera (Nutt.) Wooton & Standl.
Prairie Goldenrod
Solidago missouriensis Nutt.
Prairie Sunflower
Helianthus petiolaris Nutt.
Rabbitbrush
Chrysothamnus nauseosus (Pall.) Britton
var albicaulis Nutt.

Helianthellia uniflora (Nutt.) T. & G. var. nuttallii

Lygodesmia grandiflora (Nutt.) T.& G.

Short Rayed Alkali Aster
Aster frondousus (Nutt.) T. & G.

Erigeron speciosus (Lindl.) DC

var. macranthus (Nutt.) Cronq
Showy Goldeneye
Viguiera multiflora (Nutt,) S. F. Blake
Small Wire Lettuce
Stephanomeria exigua Nutt.

Erigeron gabellus Nutt. var. gabellus

Sneezeweed
Helianthella autumnale L. var. montanum (Nutt.) Fern.
Spiny Horsebrush
Lagothamnus microphyllus Nutt. var. spinosa

Lygodesmia spinosa Nutt.

Streambank Arnica
Arnica amplexicaulis Nutt.

Iva xanthifolia Nutt.

Aster integrifolius Nutt.

Erigeron filifolius Nutt. var. filifolius

Thoroughwort.
Brickella oblongifolia Nutt,
Wavy Leaf Thistle
Ciraiium undulatum (Nutt.) Spreg.
Western Aster
Aster occidentalis (Nutt.) Torr. & Gray
Western Coneflower
Rudbeckia occidentials Nutt.

Euthamia occidentalis Nutt.

Artemisia ludoviciana Nutt. var. latiloba Nutt.

Wyethia helianthoides Nutt.

White Thistle
Cirsium hookerianum Nutt.

Artemisia tridentata Nutt.

ssp. wyomingensis Beeetle & Young
BEAN/PEA FAMILY
FABACEAE
American Vetch
Vicia americana Muhl. ex Wild. Var oregana Nutt.
False Lupine
Thermopsis rhombifolia (Nutt. ex Pursh) Richardson
Lance Leaf Scurf Pea
Psoralea lanceolata Nutt.
Lodgepole Lupine
Lupinus parviflorus Nutt.
Mountain Thermopsis
Theropsis montana Nutt. var montana
Northern Sweetvetch
Hedysarum boreale Nutt. var camescems Nutt..
Nuttall's Licorice
Glcyrrhiza lepidota Nutt. ex Pursh.
Painted Milkvetch
Astragalus cermicus E. Sheldon
var. Orobus longifolius Nutt.
Pulse Milkvetch
Astragalus tenellus Pursh var. Orobus dispar Nutt.
Silvery Lupine
Lupinus argenteus Pursh. var. pariflorus (Nutt.) Hitchc.
Summer Clover
Trifolium longipes Nutt.
Wooly Clover
Trifolium microcephalum Nut.
BIRCH FAMILY
BETULACEAE
Mountain Alder
Alnus tenuifolia Nutt.
BORAGE FAMILY
BORAGINACEAE
Rosette Tiquilia
Tiquilia nuttallii (Hook) Richardson

Mertensia oblongifolia (Nutt.) G. D

Hackelia patens (Nutt.) I.M. Johnst. var. patens

BROOMRAPE FAMILY
ORPBAMCJACEAE
Clustered Broomrape
Orobanche fasciculata Nutt.
BUCKWHEAT FAMILY
POLYGONACEAE

Eriogonum caespitosum Nutt.

Eriogonum cernuum Nutt.

Eriogonum ovalifolium Nutt. var. ovalifolium

Eriogonum microthecum Nutt. var. laxiflorum Hook.

Eriogonum heracleoides Nutt.

var. angustifolium (Nutt.) T. & G.
BUTTERCUP FAMILY
RANUNCULACEAE

Ranunculus sceleratus var. multifidus Nutt.

Aconitum columbianum Nutt. var. columbianum

Low Larkspur
Delphinium nuttallianum Pritzel.
Red Baneberry
Actaea arguta Nutt. (Rubra)

Clematis ligusticifolia Nutt.

CACTUS FAMILY
CACTACEAE
Fragile Prickly Pear Cactus
Opuntia fragilis (Nutt) Hawthorne
CARROT FAMILY
APIACEAE
Fernleaf Desert Parsley
Lomatium dissectum (Nutt.) Mathias & Constance
Lyall's Angelica
Angelica arguta Nutt.
Mountain Sweet Cicely
Osmorhiza divaricala Nutt. ex. Torr. & Gray
Wyeth Biscuitroot
Lomatium ambiguum (Nutt.) J.M. Coult. & Rose

EVENING-PRIMROSE

ONAGRACEAE

Oenothera cespitosa Nutt. ssp. montana (Nutt.) Muntz

Camissonia Parvula (Nutt. ex Torr. & Gray) Raven

Oenothera Nuttallii T. & G.

Gaura coccinea Nutt. ex Pursh

Epilobium paniculatum Nutt. var. paniculatum

FIGWORT FAMILY
SCROPHULARIACEAE

Penstemon humilis Nutt.

Castilleja angustifolia (Nutt.) B. Don

Orthocarpus luteus Nutt.

FOUR-O'CLOCK FAMILY
NYCTAGINACEAE
Sand Verbena
Abronia fragrans Nutt.

GOOSEBERRY FAMILY

GROSSULAROICEAE

Ribes cereum Doug. var. reniforme Nutt.

GOOSEFOOT FAMILY

CHENOPODIACEAE

Atriplex canescens (Pursh) Nutt. var. cabescens

Atriplex nuttallii S. Watts
HEATH FAMILY
ERICACEAE
Western Labrador Tea
Ledum glandulosum Nutt.

Pterospora andromedea Nutt.

IRIS FAMILY

IRIDACEAE

Iris missouriensis Nutt.

LILY FAMILY

LILIACEAE

Fritillaria atropurpurea Nutt.

Zigadenus paniculatus (Nutt.) S. Wats.

Sego Lily
Calochortus nuttallii Torr. & Gray
Western Turkey Grass/Indian Basket Grass
Xerophyllum tenax (Pursh.) Nutt

MALLOW FAMILY

MALVACEAE

Sidalcea oregana (Nutt. ex Torr. & Gray) Gray

MAPLE FAMILY

ACERACEAE

Acer grandidentatum Nutt.

MINT FAMILY

LAMIACEAE

Dracocephallum parviflorum Nutt.

Physostegia parviflora Nutt.

Stachys palustris L. var. pilosa (Nutt.) Fern

MUSTARD FAMILY
BRASSICACEAE
Bittercress
Cardamine oligosperma Nutt.

Thelypodium integrifolium (Nutt.) Endl.

Lepidium Montanum Nutt. var. montanum

Erysimum asperum (Nutt.) DC

NETTLE FAMILY

URTICACEAE

Urtrica holosericea Nutt.

NIGHTSHADE FAMILY
SOLANACEAE

Solanum triflorum Nutt.

OLEASTER FAMILY
ELAEAGNACEAE

Sheperdia canadensis (L.) Nutt.

Silver Buffalo-Berry
Shepardia argentea (Pursh.) Nutt.

PHLOX FAMILY

POLEMONIACEAE

Phlox longifolia Nutt.

Linanthastrum nuttallii

Polemonium viscosum Nutt.

Collomia linearis Nutt.

PINE FAMILY

PINACEAE

Abies lasiocarpa (Hook.) Nutt.

PINK FAMILY

CARYOPHYLLACEAE

Arenaria congesta Nutt. var. congesta

ROSE FAMILY

ROSACEAE

Black Hawthorn
Crataegus douglasii var. rivularis Nutt.
Bush Oceanspray
Holodiscus dumsus (Nutt. ex Hook.) A. Heller
Bushy Cinquefoil
Potentilla paradoxa Nutt.

Cercocarpus ledifolius Nutt.

Rock Spiraea
Petrophytum caepitosum (Nutt.) Rydb.
Squaw Apple
Peraphyllum ramosissimum Nutt.

Rubus parviflorus Nutt.

Sanguisorba occidentale Nutt. ex. T. & G.

Western Chokecherry
Prunus virginiana L. var. demissa Nutt.

Amelanchier alnifolia Nutt.

SANDLEWOOD FAMILY

SANTAIACEASE

Comandra unbellata (L.) Nutt. var. pallida (D.C.) Jones

SAXIFRAGE FAMILY

SAXIFRAGACEAE

Lithophragma tenellum Nutt. var. tenella

Lithophragma parviflorum (Hook.) Nutt.

Small Prairie Star
Lithophragma glabrum Nutt.

SEDGE FAMILY

CYPERACEASE

Carex aurea Nutt.

SUMAC FAMILY

ANACARDIACE

Rhus trilobata Nutt.

VALERIAN FAMILY

VALERIANACEAE

Valeriana edulis Nutt. var. edulis Nutt.

VIOLET FAMILY

VIOLACEAE

Viola nuttallii Pursh var. vallicola (Nels.) Hitchc.

WILLOW FAMILY

SALICACEAE

Salix lucida Muhlenb. ssp. caudata (Nutt.)

Salix exigua Nutt. ssp.melannopsis (Nutt.) Cronq.

var. melanopsis
Scouler's Willow
Salix scouleriana Barratt ex Hook var. flavescens Nutt

Salix exigua Nutt.
Books
Bremness, Lesley, 1994. Herbs. Dorling Kindersley, London.
Coon, N. 1963. Using Plants for Healing. Hearthside Press, Inc. Mass.
Craighead, J. J., F. C. Craighead, and R. J. Davis. 1963. A Field Guide to Rocky Mountain Wildflowers. Houghton Mifflin Company, Boston.
Cronquist, A., N. H. Holmgren, and P.K. Holmgren. 1997. Intermountain Flora, Vol. 3, Part A. New York, Botanical Garden, Bronx, New York.
Cronquist, A., A. H. Holmgren, N. H. Holmgren, J. L. Reveal, and P. K. Holmgren. 1989. Intermountain Flora, Vol. 3, Part B. New York, Botanical Garden, Bronx, New York.
Cronquist, A., A. H. Holmgren, N. H .Holmgren, J. L. Reveal, and P. K. Holmgren. 1984. Intermountain Flora, Vol. 4, Part B. New York, Botanical Garden, Bronx, New York.
Cronquist, A., A. H. Holmgren, N. H., J. L. Reveal, and P. K. Holmgren. 1994.. Intermountain Flora,
Vol. 5. New York, Botanical Garden, Bronx, New York.
Cronquist, A., A. H. Holmgren, N. H. Holmgren, J. L. Reveal, and P. K. Holmgren. 1977. Intermountain Flora, Vol. 3, Part B. New York, Botanical Garden, Bronx, New York.
Glennon, James M.. 1991. Flora of the Fort Hall Indian Reservation. Idaho State University.
Harrington, H. D., 1967. Edible Native Plants of the Rocky Mountains. The University of New Mexico Press.
Huxley, Anthony, 1967. Mountain Flowers. The Macmillan Company, New York.
Imes, Rick, 1992. Wildflowers. Wildflowers. Rodale Press, Emmaus, Pennsylvania.
Johnson, Frederic D., 1995. Wild Trees of Idaho. University of Idaho Press.
Monzino, H. N., 1987. Shrubs of the Great Basin. University of Nevada Press, Reno, Los Vegas.
Orr, R. T., and M. C. Orr, 1974. Wildflowers of Western America. Alfred A. Knopf, New York.
Pesman, Walter, M., 1988. Meet the Natives. Denver Botanic Gardens.
Rydberg, P. A., 1917. Flora of the Rocky Mountains. Published by the Author, New York.
Taylor, Ronald J., 1992. Sagebrush Country. Mountain Press Printing Company, Missoula.

Williamson, Kim, 1964. Eating Wild Plants. Mountain Press Printing Company, Missoula.
Albion College: Angiosperm Images By Family

Botanical Dermatology Database. BoDD Index to Plant Families.
Botanical Medicine Information Resources
CalFlora. Botanical resource of 8,363 vascular plants on the internet.
Canada Poisonous Plant Information System
Central Washington Native Plants
Creek Herbs. A collection of herbs, wildflowers, descriptions, and folklore.
Expedition to the Future: Lewis and Clark Botany
Fire effects Information: 900 plants described
HerbMed Interactive Herbal Data Base
Lewis and Clark Herbarium

Lewis and Clark in Idaho
Lewis and Clark Journal of Discovery: Plants
New York Botanical Gardens. Vascular Plant Type Catalogue.
Pacific Northwest Wildflowers. Flowers found west of the Cascade Crest.
Stress Treatments: Plants used to reduce and prevent stress
Texas A&M University. Bioinformatics Working Group. Vascular Plant Image Gallery.
University of Idaho. Propagating deciduous and evergreen shrubs, trees, and vines with stem cuttings.

University of Maryland, Botanical Resources. Information on plant groups.
U. S. G. S., Plants.. Northern Prairie Wildlife Resource Center.
Washington State University, Gardening in Western Washington: Native Plants